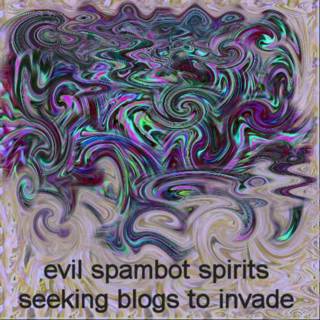 This post is in response to a Twitter message from
Joseph Jaffe
(twitter.com/jaffejuice), asking for input on this topic. A brilliant idea for a blog post, so here goes.
(1) You should blog because you have ideas to discuss, insights to share, opinions to present, or a need to express yourself, coupled with a desire to get feedback from others.
(2) Blogs are not just another advertising medium for sales hype or controlled "corporate messages". They are a two-way conversation platform, and must enable readers to post comments, except in very rare cases.
(3) It may take you up to a year, or more, to get any steady traffic, comments, or quotes and links to your blog from other bloggers. Sometimes the post you worked hard on, and included lots of quotes and links to other sources, will go over like a lead balloon...while a post you just dash off haphazardly may generate tons of attention and links. You can't predict how readers will react.
(4) Blogging frequently will improve your thinking, research, debate, and online interaction skills, to the point where it will eventually just flow out of you with little effort or editing.
(5) Personalize your blog with a custom design, tweak your sidebar frequently, and change the entire design and colors at least once a year. Generic templates provided by your platform (WordPress, Blogger, etc.) look amateur and lazy.
(6) Be a good neighbor in the blogosphere, and drive traffic to your blog, by putting your blog URL in your email signature, all promotional material, and by posting comments frequently on other relevant blogs.
(7) A blog is a great way to put a human voice and face on a company. Companies without blogs seem aloof and unwilling to engage in conversations with customers. If your CEO or Sales Manager has no interest in blogging, and won't delegate the duties, he or she may not really care much about customers. Can you afford to have customers view your company as arrogant, unapproachable, mysterious, or old fashioned?
(8) Write your post titles very carefully, with an eye to SEO (search engine optimization). What words and phrases will customers likely type into a search engine to find info on the topic you're going to write about? List titles, like the title of this post, are very popular, and convey the fact that the post will contain meat, rather than fluff or rants.
(9) Never be afraid of negative comments, or take them personally. Encourage contrary opinions, critique, and complaints. You typically learn nothing from praise, while criticism, even the destructive type, can educate and improve you.
Having said that, abusive, racist, sexist, filthy comments can and should be blocked by using comment moderation. Don't use captchas (character recognition tests), unless spambots storm your blog. Captchas decrease comments, since they're often extremely hard for legitimate human comment posters to read.
(10) Use variety in your posts. Reveal non-sensitive personal information, like favorite bands, artists, movies, food, once in a while. Surprise your readers with all photo posts, or links to cool sites with sparse commentary, or quote some or all of another blogger's post, with credit and link back to it, with running commentary of your own. Publish a poetic, cryptic, or out of character post and see what happens.
P.S. This post was dashed off on short notice, with little forethought or planning. Wonder how it will be received! LOL