a blog can be a dangerous weapon of death by boredom

Here I go again.
Boring Blog Bashing, like only Vaspers can do.
This post was inspired by Uta at
Fancy World
, her Bzzzzzzzzz! cartoon.
Have you ever visited a bunch of blogs,
only to feel exhausted, empty, enraged?
I have. Happens all the time.
While I support the grass roots
revolution of the common person
blogging, expressing thoughts,
voicing opinions, talking back
to the media and corporations
and tyrannical rogue regimes...
...I don't support boring blogs.
I don't enjoy visiting blogs
that are popular, blogrolled
by prestigious bloggers...
...only to find nothing of value.
Nothing amusing.
Nothing enlightening.
Nothing inspiring.
Nothing worth reading.
I'm talking mainly about
business, marketing, and tech blogs.
Many of them suck, really bad.
PLEASE post harsh comments at them.
PLEASE send questioning email to the authors.
I include myself and my own blogs.
Speak out and act up.
Let bloggers know how you feel.
If a blogger has not a damn thing
to say, why does he go ahead and post
something anyway. Loser!
I want you to flame me if I post
stupid, boring, or worthless
material to any of my blogs.
I want to hear other points of view.
I want to receive the harshest
criticism you can dish out.
That's how I improve and grow.
My enemies do me more favors
than my friends and allies.
My re-design of this blog
was due largely to a person,
Martin, who frequents the blog
Hello World.
He says nasty, unfair things
about me for sport or venting.
That's okay.
I learn and adjust and perfect.
He hated my typeface and colors.
He caused me to hate my blog.
YOU HAVE TO HATE YOUR BLOG
so you'll then try to improve it.
If you love your blog,
your writing style,
your design template,
your reader comments,
your widgets and art,
YOU ARE LOST...DEAD.
Keep improving, changing,
growing, enhancing.
Avoid boring readers
with Nothing To Say
and No New Features
and No Design Changes.
[signed] Steven Streight aka Vaspers the Grate aka
The Leper Guru
P.S. Here's that image again that I like so much, and so poorly imitate on this post in my own pathetic manner: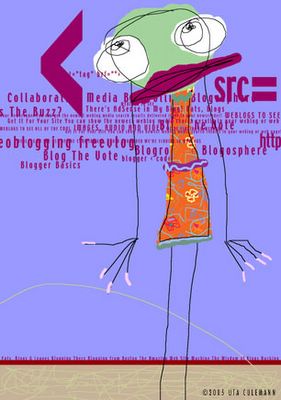 here's that Bzzzzz image from Fancy World