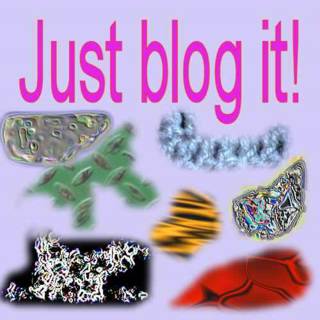 *****
Blogs began as simple web sites that owners used to post URLS of benefit to others in a given field of interest.
They were "web logs": [we]b logs, collections of continuously updated links, with brief commentary.
Then, with improved "personal publishing software" from WordPress, Blogger, and others, blogs began to be used by teenagers as a way to express themselves.
They were "plogs": p [ersonal b] logs, web journals, digital diaries, internet notebooks, cyber-confessionals.
Next came the "J-blogs": j [ournalist] blogs, in which reporters with laptop computers could post breaking news or personal opinions, with lightning speed.
Political party convention blogging by J-bloggers really boosted the public's awareness that blogs were important communication tools.
(Rathergate, the scandal involving CBS, Dan Rather, sloppy mainstream media investigative reporting, and forged documents purported to be President Bush's National Guard records, also caused a blog-inspired commotion.)
Now here are four more types of blogs I find interesting:
1. CEO Blogs:
in which corporate CEOS loosen their ties and speak frankly to customers and the public. They see blogs as inexpensive, intimate vehicles to express their professional concerns, personal qualities, and even private details, to present themselves as real, warm personalities.
Examples:
Jonathan's Blog
by the President/CEO of Sun Microsystems
ELand
by Elliott Noss, CEO of Tucows, domain seller
Sifry
by David Sifry, CEO of Technorati (good articles on business blog stats).
2. Corporate Employee Blogs:
in which company personnel are allowed, within certain guidelines or restrictions, to speak about what it's like working at a particular company. These blogs enable the company to display a non-authoritarian culture in which employees are encouraged to be productive in individualistic ways. Job applicants gain insight into a specific corporate culture by reading these blogs.
Example:
Ongoing
by Tim Bray, an employee of Sun Microsystems
Also see:
CEO Bloggers' Club
from PR Planet (articles about rules corporate bloggers must follow).
3. Job Applicant Blogs:
Not necessarily geared to job seeking (especially if currently employed), but exhibiting an individual's talent, expertise, insight, interests, activities, opinions. Employers can learn more about a prospective employee by reading the person's blog, than by traditional resumes and interviews. Personal blogs are usually more in-depth, spontaneous, and honest.
Examples:
Vaspers The Grate (this blog)
Mentally Correct Marketing
, Steven Streight's other business blog.
These blogs are being used by me to display my expertise, strategic thinking, and writing skills.
Potential clients can view it to learn more about my services, philosophy, and methodology.
Current clients, and others interested in web usability issues, can visit this blog to stay up to date on this field.
4. Artist Blogs:
Sadly, many of these are dominated by the typical blabberings, but some are being used as online galleries, which I vastly prefer.
Examples:
Incurable Art
by Elenyte Paulauskas-Poelker
Conception and development of this Blog painting
by Juan Miguel Giralt
My Life as an Artist
by Ivan Pope
Milo Photoblog
by Milo Vermeulen
NEXT BIG THING AFTER BLOGS:
Just to unsettle the smug, blogs are the Now Big Thing, but what is the Next Big Thing beyond conventional, static web sites?
Wikis.
Wikis are collaborative web sites that allow users to actually generate content, to add, alter, and delete material. This goes beyond simple comment posting. Administrative viewing and sorting tools enable site owners to restore the original content, publish multiple versions of content, and prevent abusive chaos.
Wikis enable users, such as teams working on a project, to pool their ideas and work, and watch the content evolve.
A recent article in The Economist, entitled "
Blogging goes to work
" is actually more about wikis than blogs, and even confuses the two terms to a certain extent.
Oh well.
Gotta go.
Need to work on what will be the New Next Big Thing beyond wikis!