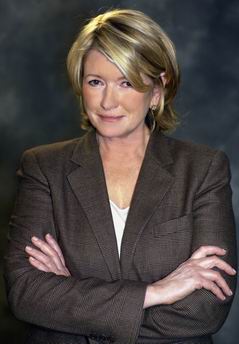 Even public relations web sites must be user-focused in design and content.
Narcissistic, self-congratulatory, "we-oriented" sites are counter-productive. They assume they are the center of the user's universe. This attitude is entirely out of step with the digital age of transparency, interactivity, and connectivity via shared information and mutual interests.
Martha Talks
(NO LONGER ONLINE) is a failure from both an ethical and a web usability point of view.
I call this an "Image-centric Diva Disaster."
Martha Stewart, who will be residing in what is nicknamed "Camp Cupcake", a federal women's prison camp.
She was found guilty of conspiracy, making false statements, and obstruction of agency proceedings connected with an investigation of her mysterious selling of Imclone bio-tech stock.
Peter Davidson, at his
Thinking by Peter Davidson
blog, has a good post entitled "
Cluephone Rings for Martha
," which inspired me to write this.
While I don't think it would serve any purpose for Martha Stewart to have her own blog...she'd probably get a lot of
snide remarks
,
hostile comments
and bizarre blog "
comment spam
"...still, this image-centric web site is fraught with problems.
I see many positive qualities in
Martha Stewart
. I like what she has done for housewives and househusbands, giving them projects to work on, that beautify the home while saving money.
I like women who rise to the top and command lucrative empires. I admire her innovation, entrepreneurial spirit, and ambition to be great.
But my appreciation of her many good qualities wilts and evaporates when I arrive at her little personal self-adoring web site.
Nothing is said about her distressed fans or the uncertain customers of her products, except thanking them for their (automatically assumed) love, sympathy, and support. What about their disappointment in you as a role model,
Martha
?
No apologies. No repentance. No admission of any kind of guilt. No regrets. No promises to look into financial dealings more closely.
An appalling lack of any sense of possibly being in error.
She'd make a good politician. They never admit to making mistakes or to seeing any way they could have done anything better.
I'm very troubled by her image-centric marketing approach.
"Image-centric" means preserving the original image, at any cost. Putting the product or corporate entity first and foremost. Users and customers are relegated to oblivion, at best. They are seen as nothing more than suckers from whom to derive maximum sales.
No concessions, no compromise, no acknowledgment of reality, the reality that she was found guilty of certain charges.
Image-centric marketing is blind and deaf toward the lowly public. Image-centric marketing is based on arrogance, denial of imperfections, and contempt for questioning and critique.
The semiotics of her photo—arms crossed in defiance and self-protection, smiling with a "I'm so rich and popular" smirk, against a dark background reminiscient of death, the grave, the prison—are ghastly.
That's nice, the K Mart spring green for the text and the minimalism of the site. A weird contrast to the macabre photo setting. I guess the dark background helps us peons to focus on her grandeur, the way her hair and skin seem to radiate, by contrast.
She sadly seems to have lost touch with the world outside her little mortal empire, an empire of embroidered throw pillows and pine cone knick knacks, lovely, useless artifacts and dust collectors.
The top navigation bar consists of:
email * notes to martha * other voices * trial update
The same links are repeated at the bottom of the page.
Notice how image-centric this web site is?
Email Martha. Write a web love note to Martha. Other media voices supportive of Martha. Trial update of Martha. Martha. Martha. Martha.
She built a brand on her previous marketing-imposed image. Now that the image is tarnished, she continues to cling to it with all her might.
Going along with the image-centric strategy, one would think that an "About Us" page would be appropriate, some biography of Martha, stressing positive achievements. Plus a history of her company, and whatever else the woman has been involved in.
Guilty celebrities are often engaged in pushing the original, seemingly benevolent, polished image at us.
As though it might be able to tackle and erase the new, tarnished image running rampant in the world.
I don't mean to rub salt in the wounds, or kick a person when they're down, but Martha Talks is an object lesson in how NOT to design and contentize a PR web site.
Martha Stewart--you've just been Vasperized.